With HEBERI.COM
Contact multiple Hotels at a destination and ask for their offers instantly

to choose the best for your clients budget and satisfaction,

Book your clients NOT only Hotels to stay, but book them Excursions or Shopping offers at destination online if they are interested

to make their holiday UNFORGETTABLE so will come back for their next Holiday booking too,

As Property Owner, Advertise your Hotel, Tour, Cruise Journey or Shop directly to Tourist Sale Agents,

simply register and prepare your Hotel, Tour, Touristic Shops Professional Advertising ONLINE and send to 1000+ Tourist Sale Agents WORLDWIDE.

We ​protect client's personal data.

We work with PayPal in terms of payments. We DON`T COLLECT or TRANSMIT users Credit Card data to any third party. Payments are sent to the user's PayPal account only.

Booking Payments are SECURED by platform but,

are released to Users PayPal account 48 hours after the client securely checked-in with an additional command for security.
OURE ILE DES PINS BEACH HOTEL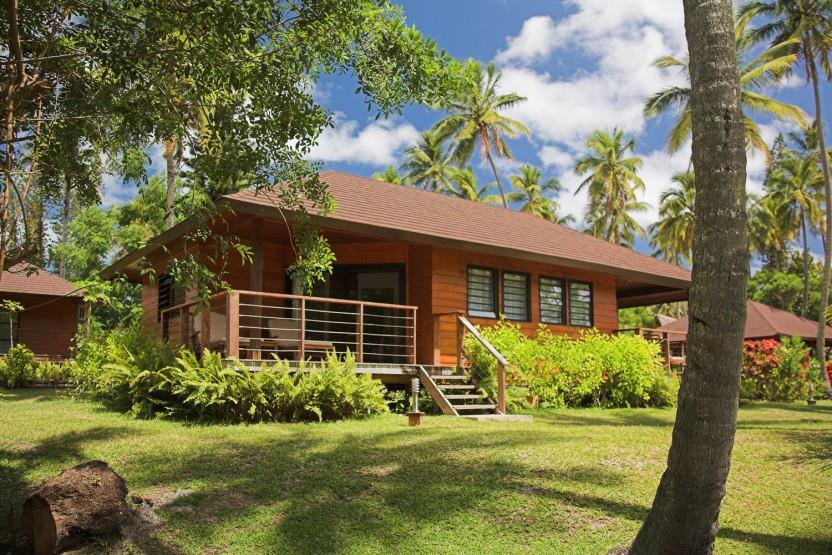 DEAL



Price - 291.9 $ / Day/Room
Bookable Online
...
Accommodation

Hotel Oure Isle of Pines comprises 30 spacious bungalows:
- 3 « beachfront » bungalows offering spectacular views over KanumEra Bay, unquestionably the most breathtaking beauty spot in the Isle of Pines.
- 17 « tropical » bungalows nestling in the hotel's lush tropical gardens, a haven of peace and tranquil beauty.
- 10 « garden » bungalows designed as 5 double bungalows, offering the same ultra-high standard of comfort and services as the hotel's other facilities and set in the verdant gardens. Perfect for families and guests traveling in a group, all rooms are intercommunicating.


Accommodation facilities
• King size bed or twin beds
• Bungalows sleep 2 people (extra bed on request - additional charge)
• Cot on request - no charge
• Bathroom with bath and separate shower in individual bungalows
• Bathroom with bath or shower in « garden » bungalow rooms
• Air conditioning, fridge, electric kettle, tea & coffee making facilities
• Ironing board & iron
• Flat-screen TV, French & English language satellite channels
• International direct dial telephone
• Power: 220 volts AC, 110-volt plug adapters available on request
• Bungalows with disabled access and non-smoking rooms available on request.

With its elegant decor, the Kanumera restaurant and bar is the perfect place to enjoy our island cuisine specialties; freshly caught fish and seafood and the famous Isle of Pines lobster play a key role in the menu. Relax in Le Banian bar located next to the restaurant and try one of our delicious exotic cocktails... unless you'd rather sip your drink by the poolside or on our beach as you watch the sunset over the lagoon in a blaze of glory.


Executive Chief
La nouvelle carte de l'Hôtel OURE TERA est à l'image de son nouveau Chef de Cuisine, Laurent ESSNER. Formé en Suisse où il a fait ses premières armes, il a sillonné pendant 15 ans la Nouvelle Calédonie, la Nouvelle Zélande et le Vanuatu, au gré d'un parcours professionnel varié où il a exercé ses talents aussi bien dans des brasseries, des restaurants gourmets que dans des hôtels de prestige.

We welcome you every day :
From 7 a.m. to 10 a.m. for breakfast
From 12 a.m. to 2 p.m. at Banian restaurant
From 2 p.m. to 6 p.m. at Banian snack
From 6:30 p.m. to 9:30 p.m. at Kanumera restaurant


Activities
To tour and enjoy pleasantly the island, the hotel's excursion desk can help you with information and bookings for leisure activities as well as car rental.

Hotel guests have free access to the following services and activities (please ask the beach attendant):
• Swimming pool, beach towels, and deckchairs
• Canoes
• Snorkeling equipment
• French bowls
• Table tennis


The bar is open without interruption from 10 a.m. to 9:30 p.m.
Vous retrouverez au travers des associations de saveurs qu'il vous propose son expérience du Pacifique: crevettes panées coco ou flambées vodka, magret de canard aux essences de mangue et ananas .

Venez vous régaler au restaurant LE KANUMERA de sa cuisine aux parfums des îles à base de produits locaux.

Location
The Isle of Pines, located only 110 Km or 25 mn south of Noumea has often been referred to as the «Island closest to Paradise».
Kanumera Bay is only 7 km far from the Isle of Pines domestic airport.
A high-speed ferry boat called « Betico » links the mainland to the Isle of Pines three times a week in 2.5 hours.
The landing wharf on Kuto Bay is only a kilometer away from the hotel.


Architecture
Kanumera Bay, rightly recognized as one of the World 10 best beaches, offers the perfect setting to the Hotel Oure Ile des Pins which is delicately nestled against a big boulder at the end of the magnificent one-kilometer long white sand beach.

Protected by a rocky cape and facing the West, the hotel enjoys a prime location and offers breathtaking views on the spectacular sunsets.

Kuto perfect white sandy beach, ideal for swimming, is just a few steps away. Hundreds of colorful tropical fishes inhabit the coral reefs just a few meters away from the hotel.
Dolphins and dugongs (sea cows) can often be seen in the crystal clear water of the bay.

Built-in complete harmony with the idyllic surroundings and in full respect of the Melanesian traditions, Oure Lodge Hotel offers a level of comfort and services of an excellent 4 stars resort.

Hotel Oure Ile des Pins, a perfect marriage between an exceptional location, a romantic South Seas getaway resort and the Melanesian Heritage that will satisfy even the most discerning traveler.

Hotel Oure Ile des Pins opened in January 2003 and is currently undergoing a major upgrading program with, in particular, the extension of the reception area, the construction of a new boutique and a superb Melanesian style beach bar & restaurant right on the beach. Furniture and hotel equipment will also be replaced or upgraded.


Services
• Souvenir shop
• Hôtel reception open from 6 a.m. to 10 p.m.
• Credit cards accepted: Visa, MasterCard, Amex
• Fax, e-mail, internet, photocopy & currency exchange services
• Laundry service & baby-sitting service on request


How to get there? View the map
By Plane: Domestic airline AirCal runs 3 to 5 flights a day to the Isle of Pines, leaving from Noumea's Magenta Airport.

By the sea :
Two companies offer a passenger boat service to Kuto Bay on Wednesday, Saturdays and Sundays (2½hrs).
Transport to the hotel on request (charge applies) or 20 mins by foot along Kanumera Bay

Our Contact Details:
OURE TERA beach resort ****
Baie de Kanuméra - BP 170
98832 VAO - Ile des Pins
New-Caledonia

(687) 43 13 15
(687) 43 13 44
resa.oure@tera.nc
http://www.tera-hotels-resorts.com/
Airport
Moué - Île des Pins Airport, New Caledonia 11 KM