With HEBERI.COM
Contact multiple Hotels at a destination and ask for their offers instantly

to choose the best for your clients budget and satisfaction,

Book your clients NOT only Hotels to stay, but book them Excursions or Shopping offers at destination online if they are interested

to make their holiday UNFORGETTABLE so will come back for their next Holiday booking too,

As Property Owner, Advertise your Hotel, Tour, Cruise Journey or Shop directly to Tourist Sale Agents,

simply register and prepare your Hotel, Tour, Touristic Shops Professional Advertising ONLINE and send to 1000+ Tourist Sale Agents WORLDWIDE.

We ​protect client's personal data.

We work with PayPal in terms of payments. We DON`T COLLECT or TRANSMIT users Credit Card data to any third party. Payments are sent to the user's PayPal account only.

Booking Payments are SECURED by platform but,

are released to Users PayPal account 48 hours after the client securely checked-in with an additional command for security.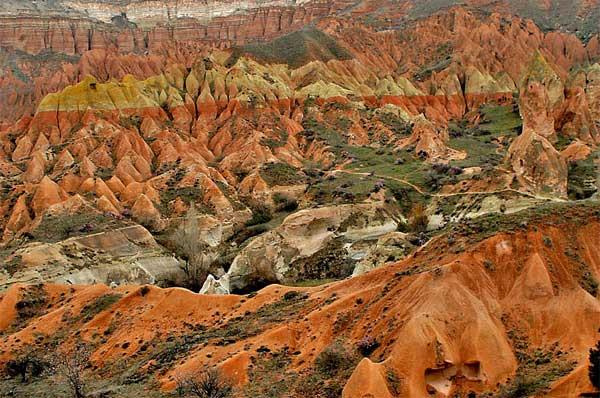 RECCOMENDED
DEAL







Adult: - 165.00 $ / PP
Child: - 82.50 $ / PP
Bookable Online
...
WE ORGANAIZE TOUR TO ONE OF THE MOST SPECTACULAR LANDSCAPE IN THE WORLD, CAPPADOCIA.

WE EXPLORE THE FAIRY CHIMNYS, UNDERGROUND ANCIENT CITIES, EARLY CHRISTIANITY CHAPPELS/CHURCHES. WE ALSO VISIT MEVALANA MUSEUM IN KONYA WHICH IS ONE OF MOST FAMOUS MUSLIM PHILOSOPY.

OUR GUIDE SPEAKS ABOUT MOST INTERESTING SUBJECTS SUCH AS POLITCS, HISTORY, RELIGION, EDUCATION, HEALTH SERVICE, .ETC IN TURKEY.

OUR CLIENT MAY EXPERIENCE BALOON FLIGHT TO SEE CAPPADOCIA FROM BALOON.

OUR TOUR ITINERARY IS AS FOLLOWS:

DAY 1: WE PICK UP CLIENTS EARLY MORNING FROM THEIR HOTEL IN ALANYA AND LEAVE FOR CAPPADOCIA. FIRST BREAK IS FOR BREAKFAST APPROXIMATELY 1,5 HOURS FROM LAST CLIENTS PICK UP IN ALANYA FOR ABOUT 30-45 MINUTES.
THEN WE LEAVE FOR KONYA WHERE WE VISIT MEVLANA MUSEUM FOR APPROXIMATELY 1 HOUR. WE HAVE LUCH IN KONYA AND DEPART FOR CAPADOCIA.
WE WILL HAVE FIRST VISIT TO AN UNDERGROUND ANCIENT CITY. LATER WE LEAVE FOR ANOTHER PHOTO BREAK BY PIGON VALLEY, THREE BEAUTY AND WE GO TO HOTEL FOR OVERNIGHT.

AT OUR HOTEL WE HAVE OPEN BUFET DINNER. FOR THOSE INTERESTED WE ORGANAIZE TURKISH NIGHT WITH ADDITIONAL PAYMENT.
DAY 2: WE HAVE EARLY WAKE UP, BREAKFAST AND DEPARTURE TO VISIT GOREME OPEN AIR MUSEUM, PASA BAG, DERVENT VALLEY. THEN WE VISIT A CERAMIC ATELIER TO SEE HOW CAPPADOCIAN TRADITIONAL POTERY IS MADE. DEPENDS ON TIMING WE MAY VISIT AN ONYX ATELIER TOO TO SEE HOW THE HAND MADE ONYX OBJECTS ARE MADE.

IN BOTH CERAMIC AND ONYX ATELIERS CLIENTS CAN PURCHASE SOME IF THEY FIND THINGS INTERESTING AS SUVENIER FROM CAPPADOCIA.
THEN WE HAVE LUNCH IN CAPADOCIA AND LEAVE FOR ALANYA AT ABOUT 13.00. WE HAVE SEVERAL BREAKS ON THE WAY BACK. WE HAVE DINNER AFTER KONYA ON TAURUS MONTAINS.
INCLUDED SERVICES
GUIDING, ENTRANCE FEE TO MUSEUMS, ACCOMMODATION IN 4 STAR HOTEL, BREAKFAST AND DINNER AT HOTEL, TRANSPORTATION WITH MERCEDES OR MITSUBISHI BUS WITH AC, MIC AND EPERIENCED DRIVER.


EXCLUDED SERVICES
PERSONAL EXPENSES, DRINKS, SUVENIORS, TIPS.

GUIDING LANGUAGE
GUIDING LANGUAGE IS PERFOMRED BY TURKISH TOURISM MINISTRY LICENCED GUIDE IN ENGLISH.


NO MATTER WITH WHICH TOUR OPERATOR YOU SEND CLIENTS TO ALANYA, SIMPLY MAKE CAPPADOCIA TOUR BOOKING WITH US TO YOUR INTERESTED CLIENTS. WE PICK THEM FROM EVERY HOTEL IN & AROUND ALANYA AND LEAVE THEM BACK AT THE END OF TOUR. WE PAY 10% OF TOTAL BOOKING AMOUNT TO YOUR PAYPAL ACCOUNT AS BOOKING COMMISSION.
Attention! Please do not hesitate to contact via aktden@outlook.com if you have any questions to us.
---
PLEASE INFORM YOUR CLIENTS TO CHECK THEIR EMAIL AND KEEP THEIR MOBILE PHONE ON AS THEY WILL BE INFORMED THROUGH ONE OF THEM FOR HOW, WHEN, FROM WHERE WILL BE PICKED AND/OR OTHER INFORMATIONS.

---

PLEASE KEEP IN MIND THAT WE MAY ASK SOME QUESTIONS BEFORE APPROVING YOUR BOOKING VIA INTERNAL MESSAGING. PLEASE WATCH YOUR MESSAGE AND RESPOND TO OUR QUESTIONS WHEN/IF ASKED.