With HEBERI.COM
Contact multiple Hotels at a destination and ask for their offers instantly

to choose the best for your clients budget and satisfaction,

Book your clients NOT only Hotels to stay, but book them Excursions or Shopping offers at destination online if they are interested

to make their holiday UNFORGETTABLE so will come back for their next Holiday booking too,

As Property Owner, Advertise your Hotel, Tour, Cruise Journey or Shop directly to Tourist Sale Agents,

simply register and prepare your Hotel, Tour, Touristic Shops Professional Advertising ONLINE and send to 1000+ Tourist Sale Agents WORLDWIDE.

We ​protect client's personal data.

We work with PayPal in terms of payments. We DON`T COLLECT or TRANSMIT users Credit Card data to any third party. Payments are sent to the user's PayPal account only.

Booking Payments are SECURED by platform but,

are released to Users PayPal account 48 hours after the client securely checked-in with an additional command for security.
GUAM PLAZA RESORT & SPA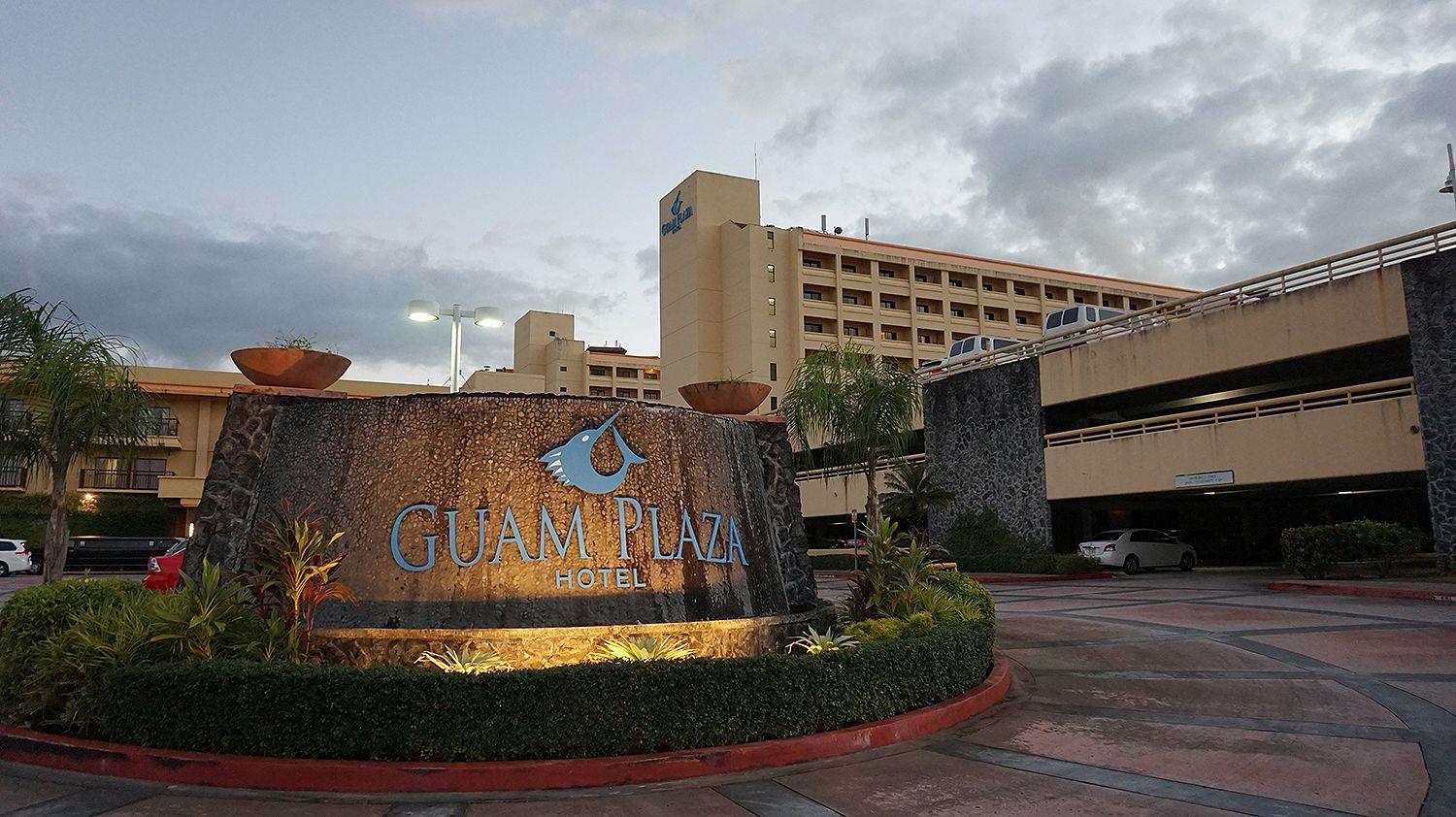 DEAL



Price - 128.1 $ / Day/Room
Bookable Online
...
Guam's Most Popular Hotel! We are an affordable, modern Hotel with excellent choices, including Standard and Deluxe Rooms, plus Beach BBQ, Dining, Shopping, Water Theme Park, Spa and more... Located in Tumon, Guam.
Experience all of Guam's amazing adventures at Guam Plaza Resort & Spa
Guam Plaza Resort & Spa has proudly been in the hospitality industry since 1983 and is locally owned. We have expanded the hotel's services to include retail shops, restaurants and water theme park. We continue to improve our accommodations and guest services, provide quality, trending and diverse retail products, offer the best dining experience in all our restaurants, and we have the friendliest staff in our water theme park.



Guest Services

ROOM AMENITIES

Air-conditioning
Crib
Extra bed available* (Standard room only)
Hair dryer
In room Massage service available upon reservation
Mini Refrigerator
Room Safety Deposit Box
Telephone
Television: basic cable, Pay per view available
Toothbrush and Toothpaste
Towels 2 sets
Twin Beds
Wake up calls

FREE WIFI IN ROOMS

Free Wifi is available for in-house guests.
A password is required from the Front Desk.
* One pass code issue per paying bed user.


SWIMMING POOL

Large Pool Plus Kids Pool
Outdoor Pool: Daily 8:00am-7:00pm. No Lifeguard On Duty
Pool Towels Available at poolside only for hotel pool use


STAY FIT WITH OUR EXCLUSIVE HOTEL FITNESS CENTER

A complete FITNESS CENTER just for our Guam Plaza Hotel guests
Modern gym equipment in a new indoor facility near the hotel's pool
Hours of operation: Daily 6:30 am-9:30 pm


BUSINESS CENTER
The Business Center, located in the G floor (Phase 2) is free for all guests.
A password is required from the Front Desk.
Hours of operation: Daily 6:30 am-9:30 pm


CONVENIENCE STORE

JP Mini Shop is open 24 hours, located in the hotel lobby.
It offers a wide variety of souvenirs, snacks, beverages and toiletries.


ICE MACHINES

Ice dispensing machines are located on all 3 phases.
Phase I: 2nd and 3rd floor
Phase II: 2nd, 6th and 8th floor
Phase III: Ground, 5th and 7th floor


SODA VENDING MACHINES

Soda vending machines are available on each tower next to the ice machines.


PARKING

Complimentary on-site parking; Bicycle parking available


CAR RENTAL
Taico Rental Car Agency located inside hotel


PUBLIC TRANSPORTATION
Bus stop located in front of JP Superstore (connected to hotel lobby)


TAXI
Desk is located at entrance of hotel


FOREIGN EXCHANGE
Please visit Front Desk. Japanese Yen to US Dollar Only


LAUNDRY SERVICES AND DRY CLEANING
Coin Operated Laundry (Open 24 Hours)
Washing Machine/Dryer $2.00
Same day laundry and dry cleaning services are available on weekdays (not holidays)*


TOUR AGENTS
3 Tour desk lounge: Located inside hotel PTM, R&C, HIS


PET POLICY
Only Service Dogs permitted
* For some services, kindly contact front desk; some charges may apply




GUAM PLAZA has the ideal location in Tumon, Guam.

Guam Plaza Resort & Spa has become extremely popular with travellers from around the world, for over 33 years, for having the ideal location in Guam's tourist district, Tumon. Enjoy a modern, friendly hotel in the center of Tumon. The always-thrilling Tarza Water Theme Park is located directly behind the hotel. While the ultimate shopping experience, JP Superstore, is located in front of the hotel. All venues are conveniently connected. Plus, enjoy Guam's Best BBQ and Dining at Sails BBQ and Nana's Cafe, right on the sandy beach, located right across the street from the hotel.


Welcome to Spa Bali!

Asia's finest spas, featuring authentic Balinese style massages and treatments.
Luxuriate in the pampering of our Balinese and Balinese trained therapists.
Spa Bali, "Where beauty and tranquility become one."


Guam's only Authentic Balinese Spa!
Our staff is comprised of all Balinese trained Therapists. We offer a wide array of Spa Treatments.
Located in the Guam Plaza Hotel 1328 Pale San Vitores Rd, Tumon, Guam
Open 7 days a week from 9:00 AM until 9:00 PM We apologize, Spa Bali Guam is not able to accommodate prenatal treatments.

Please make reservations at least 24 hours in advance. Thank you.



Popular Treatments, available in Room or Beach BBQ Packages


| | |
| --- | --- |
| NIRWANA BALI MASSAGE | Our Signature massage. An exotic blend of Balinese, Swedish, and Shiatsu techniques. |
| ULTIMATE FOOT BATH | The ultimate indulgence for your feet! Complete with relaxing soak for your tired feet, toe to calf exfoliating scrub, then our special foot massage followed by mask treatment, and finally an herbal bath using all natural aromatherapy oils. |
| WARM STONE MASSAGE | A deeply relaxing massage. Great for backaches! |
| AYURVEDIC MASSAGE & SHIRODARA | Authentic ancient Indian scrubs and massage, tailored to your personal body and spirit. |
DINING

Sails BBQ

Perfectly located on the beach, it's a beautiful place to be as you dine alfresco or indoors for breakfast. The breakfast menu includes local favorites such as Chamoru Loco-moco, Smoked Salmon Benedict and Fillet Steak & Eggs. If you like it simple we offer house favorites like Blegian Waffles, French Toast and Pancakes. We open as early as 6:30am.

In the evening, Sails BBQ is the best place for outdoor grilling. Everyone becomes a master griller with their own table fitted with a pit of burning coals and a platter of quality seafood and meats, comes with salad bar and all-you can drink draft beer.

Reserve the first seating at 6pm and you'll be awed with Guam's spectacular sunset. If you miss the first seating the second seating starts at 7:45pm.

For the customer's convenience, transportation is provided from and to hotels in Tumon.

Business hours:
Breakfast 6:30am-10:30am Dinner 1st seating 6pm-7:30pm
2nd seating 7:45pm-9:15pm

Reservation: 1 (671) 649-7760 Phone: 1 (671) 649-6262 / 6264
Website: www.guamplaza.com


Nana's Café

Nana's Café is located on the ocean front of Tumon Bay. The interior is decorated with cool colors of Guam's tropical waters and sea life motifs. It's a perfect place for a romantic lunch or dinner. It is the most popular seafood restaurant and they also have something for everyone, from Wet Aged Filet Mignon, St. Louis Ribs & Grilled Chicken Breast, PastaPescatore to Garden Fresh Salads. Our seafood menu selection is a unique combination created and crafted by our skilled and passionate Chef.

Another popular and literally a hands-on dining experience is Nana's Crack'in Crab dinner menu. Here, the table is lined with butcher paper and you're given a plastic bib. A pot of steamed King Crab or Dungeness Crab with Cajun spiced stewed tomatoes, corn, potatoes and sausage is poured out onto the table and everyone eats with their bare hands. It's totally a fun dining experience for the entire family.

Business hours:

Breakfast 6:30am-10:30am
Lunch 11am-2pm Dinner 6pm-10pm
Reservation: 1 (671) 649-7760 Phone: 1 (671) 649-6262 / 6264


Rootz Hill's Grillhouse

Rootz Hill's Grillhouse is an open-kitchen concept here you can watch an orchestra of chefs create mouth-watering dishes at the robata grill, teppanyaki grill, pizza oven and the chef's work table. Rootz is dedicated to serving only the best and freshest ingredients whenever possible. We have partnered with a local farmer that provides market fresh and organic vegetables exclusively for Rootz.

Start your day with breakfast at Rootz. The aroma of sizzling bacon and eggs await you. We offer a buffet of international favorites and ala carte.

Lunch buffet is Market Cuisine made for dining Monday to Thursday and Saturday. Friday is Seafood Market lunch buffet. On this day seafood is the highlight on the buffet. Sunday is a special day of the week for most families, so, we make it special by adding on carved roast meats, grilled chicken and pork from the robata grill, appetizers from Asian regions, sweet delights on the dessert bar, and sparkling wine.

For dinner we feature high quality beef from the line of Black Mountain Premium Beef, 40 days dry aged Porterhouse (16 ounce to 42 ounce) and wet aged Tomahawk. The dinner menu offers other cuts of beef, rack of lamb, Black Berkshire pork chop, surf & turf combinations, vegetable sides, signature pizza & pasta, and desserts made with Häagen-Dazs ice cream. To add on to your dining pleasure, we carry a selection of fine wines from around the world.

"Excellent food, fine wine and a company of friends makes for good times at ROOTZ".

Business hours:
Breakfast 6:30am-10:30am Lunch 11:30a-2:00pm
Dinner 1st seating 6:00pm-9:30pm
Reservation: 1 (671) 649-7760 Phone: 1 (671) 646-7803


Café at Rootz

Guam Plaza Resort & Spa introduces the new Café at Rootz, conveniently located in the lobby. Café hours are from 6:30 am-10:00 pm. We offer hot and chilled light meals made fresh daily like Pizza, Toasted Reuben Sandwich, Ube Pancakes, House-cured Salmon Salad, Matcha Scones, Acai Smoothie, and so much more.


Tarzana Restaurant

At Tarzana you'll find scrumptious cheeseburgers, hamburgers, hotdogs, chicken nuggets, and more.

If you find yourself really hungry from a day full of fun. For those wanting a light snack, we also offer fresh fruit and cold sandwiches.


Kumukumu Coconut Bar

Welcome to Kumukumu Coconut Bar, located in the second level of the Guam Plaza Resort & Spa. The bar is next to the swimming pool and garden.

Relax. Enjoy. Listen to some Lounge and Island Reggae tunes, while sipping your favorite drink. We offer a variety of popular beers and cocktails. If you are a guest staying in the hotel, you would love the fact that you don't need to drive after a night of chilling with friends at the bar; simply walk up to your room for a good night's rest.

Come, have a great time. You will love the open atmosphere, under Guam's beautiful sky, with tropical breeze.

Open 7 Days a week, Closes: 2 am
Taxis are available through the taxi counter, at the lobby level
Must be 21+ of age to consume alcohol beverages; ID checked


HOTEL ROOMS

Guam's Best Affordable, Hotel in the heart of Tumon, Guam…Rooms, Beach BBQ, Dining, Spa, Water Theme Park, Shopping, and more!

Best Value Guaranteed
To get the best deals we offer special rates through our website. We are well known for being Guam's most affordable, valued hotel accommodation.

Contact Us
For your convenience you can book your reservation on our website, Facebook page or speak to our friendly staff from 9am-5pm. We are always available to assist you.

Seasonal Deals
We offer seasonal deals in addition to our online special rates. Check our Booking page for all current deals.

Events & Occasions
The hotel and restaurants offer spaces for special events and meetings. Let us show you how we can plan your event from start to finish. Contact us at eventcoordinator@guamplaza.com . Many of our guests book hotel rooms during their events, so they can experience the convenience of staying right there, at the location, instead of worrying about commuting.


Standard Rooms
Enjoy a comfortable stay with a cozy room, equipped with everything you need to make your stay enjoyable. We offer many package deals such as Standard Room with Water Theme Park passes. Families would especially appreciate our kids' friendly rooms.

AVAILABLE IN TWIN BEDS AND KING BED

Take your stay to a whole new level by booking a Guam Plaza Resort & Spa's Deluxe Room. Enjoy the Deluxe Room with a king size bed or twin beds. Our Deluxe Rooms are limited and get booked fast. If you plan on travelling to Guam soon, we encourage you to make a booking with us.

Room Description
Included:
Free Wi-Fi in (Guest Rooms) when booked online
Special Conditions:
Child Policy: (0 ~ 11 Years of age) *12 & Up considered Adult Room
Amenities:
Air-conditioning
Crib Extra bed available*
Hair dryer
In-room Massage service available upon reservation
Mini Refrigerator
Room Safety Deposit Box
Telephone
Television
Basic Cable
Toothbrush and Toothpaste
Towels 2 sets
Twin Beds (unless booking King Bed room)
Check-In Policy:
Check-in: 3:00 pm
Check-out:12:00 pm
Late checkout option is available*
---
WE DONT CHARGE ANY PAYMENT FOR BOOKINGS WITH TOUR OPERATORS. PRICE WILL APPLY IF CLIENT WILL COME INDIVIDUALLY
WE PAY 10% OF VISIBLE PRICE FOR EVERY CONFIRMED BOOKING AS YOUR COMMISSION FOR CHOOSING US.
Please contact us through info@seastarbeaurivage.com
Please find Tour Operator below that we work with in Your Country
Airport
Antonio B. Won Pat International Airport 6 KM