With HEBERI.COM
Contact multiple Hotels at a destination and ask for their offers instantly

to choose the best for your clients budget and satisfaction,

Book your clients NOT only Hotels to stay, but book them Excursions or Shopping offers at destination online if they are interested

to make their holiday UNFORGETTABLE so will come back for their next Holiday booking too,

As Property Owner, Advertise your Hotel, Tour, Cruise Journey or Shop directly to Tourist Sale Agents,

simply register and prepare your Hotel, Tour, Touristic Shops Professional Advertising ONLINE and send to 1000+ Tourist Sale Agents WORLDWIDE.

We ​protect client's personal data.

We work with PayPal in terms of payments. We DON`T COLLECT or TRANSMIT users Credit Card data to any third party. Payments are sent to the user's PayPal account only.

Booking Payments are SECURED by platform but,

are released to Users PayPal account 48 hours after the client securely checked-in with an additional command for security.
HANGAROA ECO VILLAGE & SPA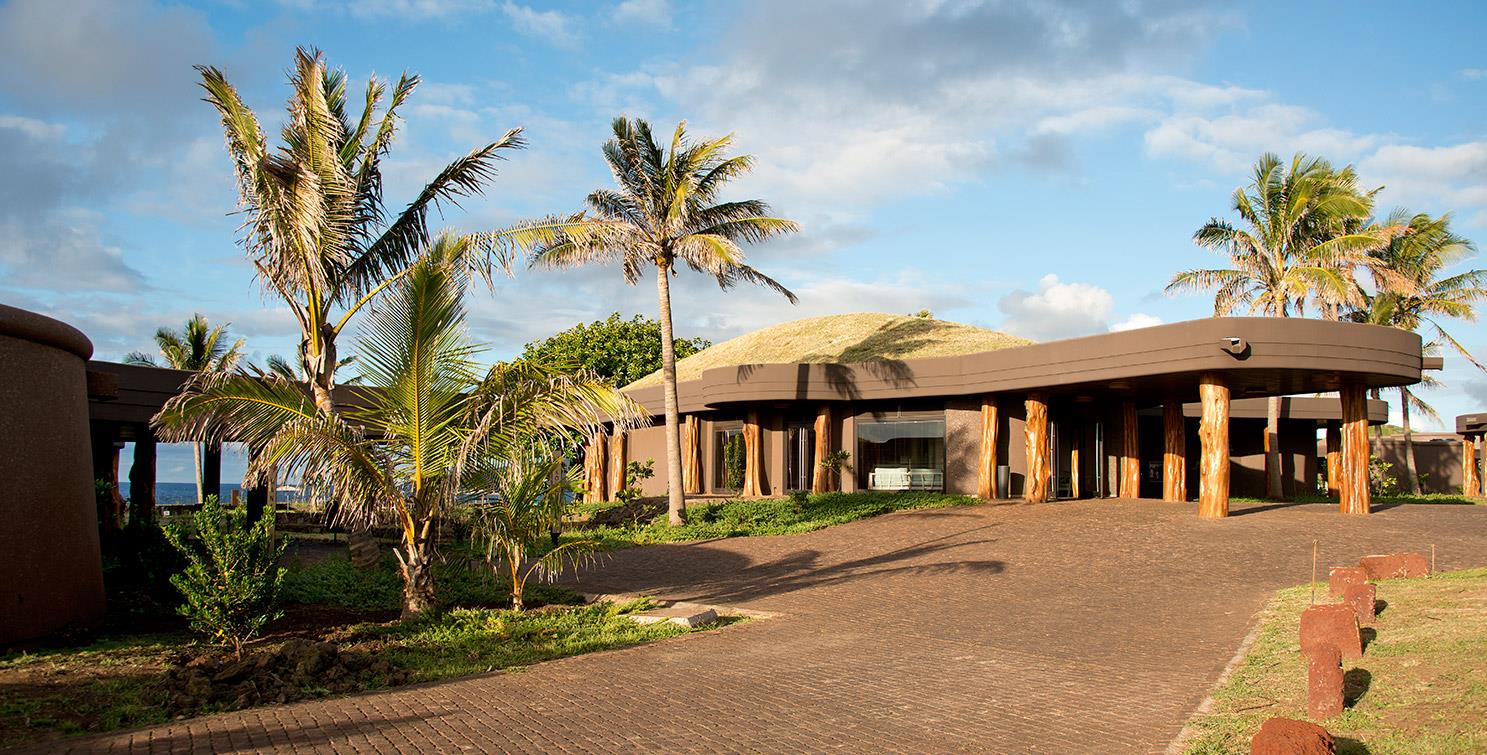 RECCOMENDED
DEAL



Price - 734.4 $ / Day/Room
Bookable Online
...
Our Philosophy

Visiting our hotel is much more than an ordinary travel experience. Easter Island is a unique destination that inspires and provides us all an opportunity to enrich our lives. We simply believe, the more we discover, the more we want to continue learning.

We can see cultures that show us their ancient traditions. We can live experiences that are good for our souls, body and mind.We always seek innovation to deliver the best possible service.

With every stay, our hope is that it does not end once you leave the hotel, yet you return home with a renewed curiosity of life and a passion for living every day to its fullest.

How to get there?

Easter Island is located 2,300 miles from mainland Chile. On the island, our hotel has a prime location in the village of Hangaroa, overlooking the most spectacular sunsets and only 5 minutes from the airport.


WHAT DIFFERENTIATES US

CULTURAL DESTINATION

Experiences around the culture of the destination. We seek that knowing culture is an motive for choosing us.

"TE PITO O TE HENUA". Living with the history and experience the traditions and legends of Easter Island. Connect with the simple, with the origins, with the beauty of nature. Our hotel is an invitation to renew the soul, to be a protagonist, and at the same time to a spectator of an ancient culture.We invite you to discover the magic and mysteries of Rapa Nui from the perfect place…
The hotel is located in a privileged place in Easter Island, on the main promenade of the town of Rapa Nui, close to the center, which allows travelers to easily be inserted into the local community, share with them and learn more about their customs.
Knowing the magical culture of Rapa Nui is a fundamental part of the experience we want to deliver throughout your stay. Through our tours and experts guides of the ancestral culture of the island, we provide the necessary knowledge to be immersed in the mystique of the island, so you can connect and integrate with the local community.


ENCOUNTER NATURE

Live experiences that take advantage of the environment and the privileged nature of where our hotel is.

We sustain ourselves with the KAINGA concept, which carries a deep respect for Rapa Nui's Mother Earth, who nourishes physically and spiritually the world that is connected with it. This respect moves us to care for their natural resources and interact with them, in order to contribute to their preservation and development for future generations of Rapa Nui.

Our tours are the gateway to this encounter with nature, each of which makes us stay in touch in a unique way with every place on the island.


A UNIQUE HOTEL

Our hotel is unique, both for the environment, for its designs, materials and history. Its identity is a magical appeal.

Our arquitecture, which blends with the enviroment through its grass roofs, colors and textures of the island, is a tribute to the Orongo ceremonial village, whose vestiges are still near volcano Ranu Kau, an iconic place of Rapa Nui culture, (There was the celebration the election of Tangata Manu , or Birdman, the most important ceremony of the second period of the island).

The reception and lounge area is based on the ancestral "boat house", a building that is shaped like a boat set reversely, as seen in the stone ruins of the island.
The village concept allows a harmonious interplay between spaces, also linked by a landscape design of native species, where nature and inhabited surfaces merge with respect and admiration for Easter Island.


ENRICHING EXPERIENCES

The service delivered through our staff is friendly, warm and flexible, it accompanies the customer from the purchase and helps their special needs.

We want to share this adventure in which to know, admire, care for and preserve it come together. We will be present throughout your experience on the island, ensuring that your stay is full of magic and inspiration with the charms of the place, in order to meet the essence of the human being.


EXPERTS ON WELL BEING
Rest your mind, body, and soul.

Through our various services. we deliver disconnection and integration with the local community. Hotel Hangaroa Eco Village and Spa eeks to provide spaces and activities that heal the body and spirit, either in our Vaitea Pool overlooking the sea, through our cuisine that highlights the typical flavors of the island, or our Manavai Spa that through enriching therapies, massages and treatments, all based on natural products of the island, seek a deep relaxation, enriching the soul, mind and body.


COMMITMENT TO SUSTAINABILITY

"The vocation of the Schiess family, is to create tourism experiences that support the social development of the environment in which they operate, care for the environment and leave a legacy."

The hotel has high-efficiency electrical equipment, massive solar lighting, and LED technology, it also has self-supplying irrigation water through a purification system of wastewater. All detergents and cleaning products used at the hotel are made under environmental management systems.

The interior decoration of the hotel is based on the island's geographical features, giving priority to natural lighting and simple objects of noble materials, seeking the least artificial contact with the environment of Rapa Nui.


ROOMS AT HANGAROA

Inspired by the local culture and natural resources of Easter Island, our rooms allow guests to feel the magical energy of the island. They invite you to rest, relax and feel at home. The ambience, highlighted by items made by local artisans, prioritizes natural light and features the use of natural materials such as cypress logs used to line the ceilings, clay formed into large soaking tubs and volcanic stone framing the bed and bathroom; all intended to further connect your stay to the spirit of Rapa Nui


KAINGA ROOMS

These rooms feature a sofa bed and desk as part of the construction, a handmade clay tub, shower, telephone, internet connection, safe, minibar, plus a private terrace overlooking the sea. They do not have television, because the disconnection is sought and to concentrate the senses in experiencing the wonders of Rapa Nui.

There are 69 Kainga, between 484 to 527 square ft.


MAUNGA ROOMS

These double height rooms feature a guest bathroom, a spacious living room, sofa bed and desk made on construction, shower, telephone, internet connection, safe, minibar, plus a private terrace overlooking the sea. They do not have television, because they seek disconnection and to concentrate the senses in experiencing the wonders of Rapa Nui.


VAITEA POOL
The tropical climate and mild temperatures throughout the year provide the perfect conditions to enjoy the largest pool on Easter Island. Whether for a morning swim or a refreshing dip at the end of a day of exploring, enjoy our pool overlooking the deep blue of the Pacific Ocean.


SPA MANAVAI
Surrounded by white sand overlooking the Pacific Ocean, fresh tropical scents and a menu of modern wellness treatments utilizing natural ingredients found on the island, our SPA helps to renew mind and body, while drawing a connection to the island closer.


OUR CUISINE

Relish in the aromas, flavors and colors of Easter Island in our multiple restaurants – Poerava, Kaloa and our pool bar Vaikoa. Enjoy signature recipes using locally caught fish and seafood seasoned with the local spices of Polynesia.


KALOA RESTAURANT

A sophisticated and minimalist lounge atmosphere with large banquette seating, comfortable pillows and endless sunset views. The two-level restaurant and lounge is a central gathering place on the island for both hotel guests and local visitors looking to indulge in the freshest local seafood caught that day and other International favorites all complimented by a creative cocktail menu sure to enhance any evening.

Bookings: +56322553120 Hours: Monday to Sunday, 18:30 – 00:00


POERAVA RESTAURANT

The main restaurant of the hotel with a capacity of 110 people inside and 60 people on the outdoor terrace, offers spectacular ocean views and a design that allows guests to enjoy a culinary show brought to life by our Chef each day.

An a la carte menu is served for breakfast and lunch.
Bookings: +56322553722 Hours: Monday to Sunday, 07:00-10:30 / 13:00-15:30


For more about our services, please visit our official page at: https://www.hangaroa.cl/en/
---
PLEASE BE INFORMED THAT WE DONT CHARGE ANY PAYMENT FOR BOOKINGS WITH TOUR OPERATORS. PRICE WILL APPLY ONLY IF CLIENT WILL COME INDIVIDUALLY. WE MUST BE INFORMED ABOUT BOOKING IS THROUGH WHICH TOUR OPERATOR, BOOKING NO & ARRIVAL DATE TO CONFIRM.
​WE PAY 10% OF VISIBLE PRICE AS YOUR COMMISSION FOR EVERY CONFIRMED BOOKING

WE PROVIDE FREE FROM/TO AIRPORT TRASFER.
Airport
Airport Mataveri, Isla de Pascua, Región de Valparaíso, Chile 2 KM