With HEBERI.COM
Contact multiple Hotels at a destination and ask for their offers instantly

to choose the best for your clients budget and satisfaction,

Book your clients NOT only Hotels to stay, but book them Excursions or Shopping offers at destination online if they are interested

to make their holiday UNFORGETTABLE so will come back for their next Holiday booking too,

As Property Owner, Advertise your Hotel, Tour, Cruise Journey or Shop directly to Tourist Sale Agents,

simply register and prepare your Hotel, Tour, Touristic Shops Professional Advertising ONLINE and send to 1000+ Tourist Sale Agents WORLDWIDE.

We ​protect client's personal data.

We work with PayPal in terms of payments. We DON`T COLLECT or TRANSMIT users Credit Card data to any third party. Payments are sent to the user's PayPal account only.

Booking Payments are SECURED by platform but,

are released to Users PayPal account 48 hours after the client securely checked-in with an additional command for security.
FATBOYS RESORT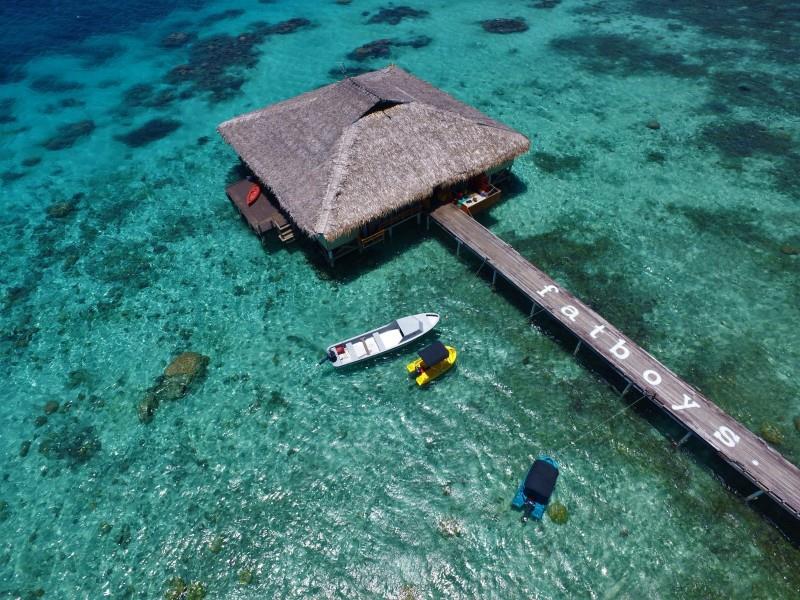 DEAL



Price - 194.25 $ / Day/Room
Bookable Online
...
WELCOME TO FATBOYS

"Fatboys" is derived from the character "Joe" from the book "The Pickwick Papers" by Charles Dickens. Joe-the "fat boy" consumes great quantities of food and constantly falls asleep in any situation at any time of the day; the Fatboys life revolves around drinking, eating, sleeping and making every conceivable effort to avoid work.

Whilst at Fatboys Resort the customer becomes "Joe the Fatboy". Enjoy an ice-cold bevy, a plate of fresh crayfish pan-fried in lime juice and butter, a game of pool, or simply kick back and be mesmerized by the myriad of tropical fish swimming underneath you. But being closely related to the writings of Dickens, there are of course many adventures to be had.

Fatboys Resort, Bar & Restaurant is situated 100 meters out atop the crystal clear waters of Babanga island. A 10-minute boat ride from the airport and 15 minutes from Gizo, the provincial capital of the Western Solomons. We have 5 bungalows that offer you with spectacular views of an early morning sunrise watched straight from your bungalow.


Accommodation
Beach Bungalows
Fatboys Resort offers a completely unique hideaway and is the ultimate tropical beachside Reef experience.

Our bungalows are constructed of traditional leaf and local hardwoods, which are designed to take advantage of the magnificent surroundings. Featuring four private bungalows and one Beach-House each with large veranda's capturing the seductive views of the Solomon Islands famous Crystal Clear water and stunning natural scenery. Quality imported furniture and bedding will ensure your stay is better than anywhere in the western province.

All accommodation is situated on the water's edge with a short stroll to Fatboys Restaurant & Bar located along our private jetty, 100m out over the reef. Please note that we have a 1-night minimum stay.

Services & Features
Complimentary tuck down service
Five-star bedding
Mosquito screened bedrooms
Ceiling fans
Hammocks
Hot water in private bathrooms
Laundry service and daily housekeeping
Tea and coffee making facilities
Large verandas with views across to Kennedy Island and Mt Kolombangara
Tour bookings
Cafe | Bar | Restaurant
Fatboys Bar & Restaurant is known as a favorite dining destination

Special Offers
Stay 5 or 6 nights and receive the following:
Welcome tropical drink
1 x half-day free poly-craft boat hire (fuel not included)
1 x complimentary bottle of wine
Free guided village walk
Free boat transfers from Gizo airport
Select 7 nights for a Stay 7 Pay 6 deal, and 10 nights for a Stay 10 Pay 9 deal

NEW Over the Water Deluxe Bungalow
This Premium Bungalow offers all that Fatboys is famous for plus more! This private suite features an entrance hall, queen-sized bedroom and a comfortable sitting room with stylish furnishing and taste. It overlooks the stunning turquoise ocean and offers an incredible...
Air conditioning
Balcony
Bathroom with shower
Coffee/tea making facilities
Electricity adapters
Linen provided
Living room/sitting area
Mosquito coils
Mosquito nets
Refrigerator
Shower
Table fan
Table lamp
Towels provided
Wardrobe
Bed size: 1 queen bed

Beach House
The Beach House has its own private beach & views over both Kennedy Island & the Vona Vona. It has an upstairs master bedroom with a queen bed & ensuite, two verandahs with lounge chairs and a hammock. The next level has a bedroom with a queen & a single bed.

Balcony
Bathroom with shower
Ceiling fan
Coffee/tea making facilities
Electricity adapters
Iron/ironing board
Mosquito coils
Mosquito nets
Refrigerator
Sofa/lounge chairs
Toiletries
Wardrobe
Bed size: 1 single bed, 2 queen beds

Honeymoon Bungalow
Amenities include an ensuite bathroom with hot water, 5-star bedding with mosquito netting, screens & ceiling fans. Large over ocean verandahs boast incredible views & vistas from the comfort of your hammock.

Balcony
Bathroom with shower
Ceiling fan
Coffee/tea making facilities
Electricity adapters
Linen provided
Living room/sitting area
Mosquito coils
Mosquito nets
Refrigerator
Sofa/lounge chairs
Toiletries
Towels provided
Wardrobe
Bed size: 1 queen bed

Couples Bungalow
The couples bungalow has an ensuite bathroom with hot water, queen size bed, mosquito screening and netting over the beds. It boasts large verandas with incredible views and hammocks.

Balcony
Bathroom with shower
Ceiling fan
Coffee/tea making facilities
Electricity adapters
Iron/ironing board
Living room/sitting area
Mosquito coils
Mosquito nets
Refrigerator
Sofa/lounge chairs
Toiletries
Wardrobe
Bed size: 1 queen bed

Family Bungalow
Our family bungalows are within a duplex. Each has its own master bedroom with Queen-sized 5-star bedding and a rear bedroom with three singles. They are completely screened, have netting over each bed, ceiling fans & bathrooms with hot water. Each bungalow has its

Balcony
Bathroom with shower
Ceiling fan
Coffee/tea making facilities
Electricity adapters
Iron/ironing board
Mosquito coils
Mosquito nets
Refrigerator
Sofa/lounge chairs
Toiletries
Bed size: 3 single beds, 1 queen bed

Location
Sheltered from the coral sea by the surrounding islands, Fatboys Resort could be considered the perfect hideaway. Every morning our guests wake to the most picturesque views of Kolombangara Island, Kennedy Island and many other beautiful coral cays and reefs that dot our warm calm waters.

Getting Here
Solomon Air and Virgin Australia service the Solomon Islands regularly from Brisbane to Honiara. The flights take 3hrs with an overnight stay in Honiara or you can fly to Gizo the same day. The flight to Gizo takes approximately an hour and the scenery is absolutely stunning. Booking both domestic and your international flights at the same time will ensure you get to Gizo on your planned date.

In Honiara, a taxi transfer from the international airport to the domestic airport is less than 1km and it will cost $2AUD or $10SBD. When you arrive at Gizo airport our boat will be waiting to transfer you to fatboys resort. Gizo airport is a short 8-minute boat ride from fatboys resort, so relax! it's that easy.
Address: Babanga Island, Gizo, Western Province, Solomon Islands
Phone: +67760095
Mobile: +677 74 66252


Activities/Tours

HIKING - Looking out from Fatboys Resort, the majestic Kolombangara Island awaits! At 5800ft in height, the island itself supports a beautiful and diverse ecosystem with approximately 80 rivers and streams flowing down its flanks. If you are fit and adventurous this hikers dream island. Beachcombing is also fun and very relaxing! There are endless stretches of pristine beaches being washed by the tranquil waters of the western province each day.


DIVING
The Solomon Islands are renowned for having the most diverse and exciting diving to be found anywhere in the world from World War II wrecks to numerous offshore reefs, spectacular coral formations, plummeting walls, manta rays, and abundant marine life. All dives are boat dives Water temperature averages 28 degrees Celsius. Visibility is usually upwards of 20 meters. Troublesome currents are rare.


SWIM and SNORKEL
The waters surrounding Fatboys are tropically warm and exceptionally clear with an abundance of corals and colorful reef fish. You can choose to swim and snorkel around the safety of Fatboys or venture a little further each day. If you are more adventurous, charter a banana/longboat and explore the spectacular underwater world the Solomon Islands have on offer. You will be truly amazed. Kayaks, stand-up paddleboards (SUP) and snorkeling gears are freely available for in-house guests. Fatboys Snorkel Tour: Fatboys to Munda/Zipolo Resort/Skull Island- on the way down, you can snorkel WWII Hellcat Fighter Plane in 9 meters of crystal clear water, then onto Zipolo Habu Resort, on return visit Skull Island. Then snorkel one of the fringing reefs on some of the pristine Islands in the lagoon.


FISHING TOURS
The Solomon Islands are a fisherman's paradise with excellent fishing all year round. The waters surrounding Fatboys provide world-class game fishing and bottom fishing but some guests prefer to wait for the catch of the day to arrive while enjoying an ice-cold beer. Fatboys supplies banana/longboat and a driver so you can focus on catching that prize fish.


KENNEDY ISLAND TOUR
Kennedy Island is a small uninhabited island in the Solomon Islands that was named after John F Kennedy, following an incident involving Kennedy during his World War II naval career. Kennedy Island lies 5 minutes by boat from Fatboys resort. In August 1943, it was to this island that the crew of the PT 109, commanded by then Lieutenant Kennedy, swam after their boat was rammed and wrecked by the Japanese destroyer, Amagiri. Two American sailors died in the incident. Kennedy later had the crew swim to the larger Olasana Island.

Njari Island Excursion
Njari Island could be the most significant marine ecological site in Solomon Island. In 2004, 279 species of fish were counted on a single tank dive.

Fatboys has been granted permission to run trips to this magnificent area. You can snorkel, swim off the beach or simply relax. Lunch & refreshment can be provided on request. Whether it be a BBQ lobster feast or a sandwich, we can cater to your needs.

Boat leaves the resort and travels in the northwest direction across the crystal-clear water of Gizo lagoon to one of Gizo's famous beach Saeragi!

On arrival you'll be greeted by local chief William, he'll arrange for a guided cultural tour of the village and fresh coconuts can be provided upon request. Then the boat heads across to Njari Island for a swim, snorkel or simply relax in this beautiful area whilst the chef prepares you BBQ lunch.

NB: This trip includes Fuel & a boat driver. Recommended tour period = Half day(4hours)
Maximum # of people for this trip = 5 (including boat driver)
The customary fee to be paid upon arrival.


SURFING TOUR
Surfers have known of this place for many years of its great atmosphere and great surf breaks. Gizo has a number of great surf locations all only accessible by boat from Fatboys, all western province surf breaks, break on the coral reef. Such breaks include Pailongge & Titiana - both can be easily reached with a short paddle from the village on Gizo island, Pailongge - a long right-hander that picks up a lot of swells and breaks in front of a village. It has 2 sections that join and become perfect on large swells, Titiana - 800 meters south and is a strong left-hander, Skull Island - a 2-hour boat ride from Gizo & Zipolo Habu Resort. It's possibly the longest right-hander in the Solomons. Needs a medium to large swell, best at 3-6 foot, the wave starts breaking about 200 meters south of Skull Island.

SKULL ISLAND TOUR
A great day trip to step back in time to the headhunting days, traveling through the picturesque Vonavona lagoon to Skull Island is truly breathtaking. A shrine devoted to the skulls of chiefs and vanquished warriors.

To get there a quick stop at Lola resort is required to pay CUSTOM FEE as permission to the skull island. Also, lunch is available at Lola Resort otherwise you can just order for pack lunch at Fatboys before going on this trip.

Along the way, you can snorkel WWII Hellcat Fighter Plane, in 8 meters of crystal clear water and/or you can also snorkel one of the fringing reefs on some of the pristine islands in the lagoon.
Airport
Gizo Airport 30 km
Airport
Honiara Airport 1 hour