With HEBERI.COM
Contact multiple Hotels at a destination and ask for their offers instantly

to choose the best for your clients budget and satisfaction,

Book your clients NOT only Hotels to stay, but book them Excursions or Shopping offers at destination online if they are interested

to make their holiday UNFORGETTABLE so will come back for their next Holiday booking too,

As Property Owner, Advertise your Hotel, Tour, Cruise Journey or Shop directly to Tourist Sale Agents,

simply register and prepare your Hotel, Tour, Touristic Shops Professional Advertising ONLINE and send to 1000+ Tourist Sale Agents WORLDWIDE.

We ​protect client's personal data.

We work with PayPal in terms of payments. We DON`T COLLECT or TRANSMIT users Credit Card data to any third party. Payments are sent to the user's PayPal account only.

Booking Payments are SECURED by platform but,

are released to Users PayPal account 48 hours after the client securely checked-in with an additional command for security.
HOLIDAY RESORT & SPA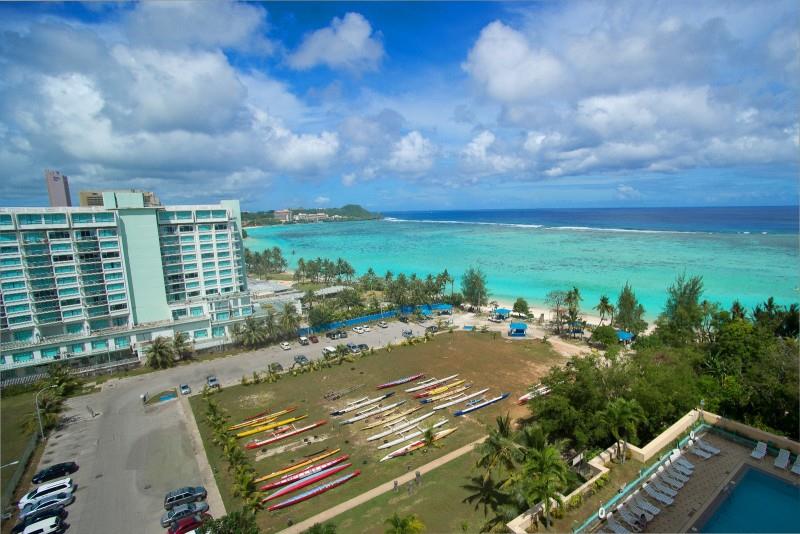 RECCOMENDED
DEAL



Price - 208.08 $ / Day/Room
Bookable Online
...
Håfa Adai and Welcome to Holiday Resort & Spa Guam!
Set in the heart of Guam's tourist hub, Tumon, the Holiday Resort & Spa Guam puts you in reach of entertainment, recreational activities, luxury and budget shopping, and a variety of must-try restaurants.

Although our central location may keep travelers busy, Holiday Resort & Spa also projects a sense of relaxation, elegance, and style. Enjoy the luxury of walking one minute to the white sands of Matapang Beach while basking in the radiant sun; admire the sunset over panoramic ocean views, or dip into the peaceful lagoon and snorkel among the abundant marine life in the Tumon Bay sanctuary.

Whether it is business or leisure, our beachfront resort is the perfect place to experience all that Guam offers.

Services & Facilities

DINING BANQUETS & CATERING DAY TRIP TO ROTA
Outdoor Pool
Poolside Bar
Kids Corner
Royal Thai Spa
Business Center (Nominal fee)
Vending and Ice Machines
Free Self and Valet Parking

Other services offered:
Coin operated laundry
Foreign Exchange
First Hawaiian Bank ATM
24 hour taxi service
Room service
Dry cleaning
Copy, fax, and other business services
Prepaid Tourist Sim
Charging Station

Guest Relations
Book your very own optional tour or exciting activities catered around your schedule. Inquire with our friendly Guest Relations or Front Desk staff about magic and dinner shows, island tours, bus schedules, marine activities, shopping, night life or other exciting adventures Guam offers.

Airport Shuttle
Direct airport pickup and drop off available for a nominal fee. Children 3 and under are free of charge and provided with car seats during services.

Trolley Service
Lam Lam Shuttle service stops conveniently in front of the hotel. Daily route includes stops to popular shopping destinations - GPO, DFS T-Galleria, Kmart, JP Superstore, and Micronesia Mall. Trolley bus time table available at Guest Relations Counter or Front Desk.

Mini Mini Gift Shop
Pick up popular souvenirs that family and friends will be sure to love. In house guests receive a special discount for select items.
Open daily 8:00am - 11:00pm
Lobby level Tel: 1(671) 645-3405

Apra Dive
Splash into the beautiful waters of the Pacific with Apra Dive Marine. Parasail, jet ski explore dolphins, dive, take a private snorkel tour, or book other exciting water adventures while on our tropical island of Guam.
Open Daily 9:00am - 5:00pm
Lower Lobby level
Tel: 1(671) 648-0123 www.apradivemarine.com


La Brasserie Restaurant

Located on the Lobby level, La Brasserie Restaurant sets the perfect ambiance for a delicious intimate meal or group gathering. Enjoy a sunrise breakfast buffet including a live omelet station, waffles or pancakes, breakfast meats, hot entrees, breads, fruits, Natto, yogurt, salads, pastries, and more.

Extraordinary themed lunch buffets will send you around the world without leaving.
Lunch Buffet includes: Bottomless beverages, house salad, soup of the day, enticing hot entrees, live stations, decadent desserts, and more.

Breakfast/Lunch: Buffet
Dinner: Ala Carte
Lunch Buffet Themes:

Monday - Japanese
Tuesday - Chinese
Wednesday - Filipino
Thursday - Italian
Friday - Seafood
Saturday/Sunday - International

Open daily:
Breakfast: 6:30am - 10:00 am
Lunch: 11:00am - 2:00pm
Dinner: 6:00pm - 9:00pm
Room service available during restaurant operation
Call for Reservations:
+1 671-645-3213/14

Seoul Jung Korean Restaurant
Our talented chefs prepare authentic and delicious Korean cuisine that you will be sure to love. Choose from tantalizing ala carte or set menus offering Seafood Pancake, Bulgogi, Bibimbap, and a variety of appetizing dishes to fill your cravings.

Open Daily
Lunch:
Monday - Saturday: 11:00am - 2:00pm
Dinner:
Sunday - Saturday: 5:30pm - 10:00pm
Location:
Located on the Mezzanine (M) level
Call for Reservations:
+1 671-645-3230 +1 671-647-7272

California Pizza Kitchen (CPK)
CPK is "Bringing Something New to the Table" with a delicious revamped menu. Specializing in an assortment of pizzas, fresh salads, pastas, sandwiches, desserts, spirits and more. Kid friendly menu and take-out available.
Open Daily:
Sunday - Thursday: 11:00am - 10:00pm
Friday - Saturday: 11:00am - 11:00pm
Location:
Located at the Lower Lobby
Call for Reservations: +1 671-647-4888

Banquets and Catering spaces have been renovated in February 2018, providing a fresh ambiance for returning and new clients.

Let our creative and experienced banquet specialists help you to create any type of event in one of our seven venues. We have the perfect event space for intimate groups of 25 to large gatherings of 400 guests.

Whether you want to organize a business meeting, conference, retreat, wedding, birthday celebration or any other event; Holiday Resort & Spa is the perfect place.

Chief Matapang Ballroom
La Brasserie
With the capacity of accommodating 400 guests, and marble lining from floor to ceiling; La Brasserie restaurant sets the mood of elegance and style.

This venue is most fitting to exchange vows, host a reception, Military/School Ball, or large cocktail reception

Need an Outdoor Venue?

Our refined Fountain Area overlooking the garden is the place for your event. The fountain area permits the fresh breeze of Tumon Bay to greet your guests while overlooking Matapang Beach Park.

The space is excellent for birthday's or outdoor wedding ceremonies of 100 guests or less.

DAY TRIP TO ROTA
Rota is just a 30-minute flight from Guam! Take a day trip to Rota for pristine secluded beaches, dive the world famous Rota Hole, enjoy panoramic ocean views on a 18-hole golf course or simply relax.
Dining and Vacation Packages Available.
Inquiries / Reservations: rotaresortcharter@gmail.com


About Us
JMSH L.L.C. was established in 2005 by Mr. Hee Kyun Cho and his wife, Min, to create a variety of accommodation options to fit the different lifestyles and needs of visitors and residents. Whether you need a short stay-cation or a year rental, JMSH's resort, condominium, and villa have a place to fit your lifestyle.
Other Accommodations under JMSH L.L.C

Garden Villa Hotel
Providing a tranquil garden environment in the center of the island's popular tourist destination. Fully renovated in July 2012, each villa features the convenience of a kitchenette; which is uncommon in most Tumon hotels. Whether you plan a short or long term trip with your family or group, the Garden Villa Hotel provides the adequate accommodation size and amenities to enhance your visit to Guam.
800 Pale San Vitores Road Tumon, Guam 96913
Tel: 1 (671) 647-0850 | Fax: 1 (671) 647-0870
Email: reservations@gardenvillahotel.com website: www.gardenvillahotel.com

Alupang Beach Tower Condominium
Enjoy breathtaking panoramic views of the sun setting over the alluring Pacific Ocean from your Suite room overlooking the Hagatna Bay. This resort provides a quiet break from the hustle and bustle of Tumon Bay and is less than 5 minutes to the capital of Guam. Equipped with a full kitchen, 2 - 5 bedrooms and ample living space, Alupang Beach Tower is the perfect place for short or long-term guests.

999 South Marine Corps Drive Tamuning, Guam 96913
Tel: 1 (671) 649-9666 | Fax: 1 (671) 649-9667
Email: lease@abtower.com Website: www.abtower.com

Mai'ana Airport Plaza
One of Guam's newly opened hotels, this iconic airport hotel was completely renovated and reopened in March 2015. Only 0.6 miles away from Guam International Airport, our Studio, 2-3 bedroom units with fully furnished kitchen and living areas are ready for all types of travelers.

253 Chalan Pasaheru Street Tamuning, Guam 96913
Tel: 1 (671) 646-6961 | Fax: 1 (671) 649-3230
Email: lease@abtower.com Website: www.MaiAnaHotel.com

Rota Resort & Country Club
Be mesmerized by the peaceful deep blue sea and the lush greenery of Rota Resort & Country Club's world class golf course, a unique hidden gem in the South Pacific Ocean. This professionally designed 18 hole golf course sits on 750 thousand acres and is USGA Authorized. Take a short 3.5 hour flight from Asia or 30 minute flight from Guam or Saipan to golf and enjoy the pristine beauty of this tropical island. Rota Resort Charter Flight Services are available with Arctic Circle Air. Email us your charter flight inquires.

P.O. Box 938 Rota, MP 96951 CNMI USA
Tel: 1 (670) 532-1161 | Fax: 1 (670) 532-1156
Email: rotafrontdesk@gmail.com or rotaresortcharter@gmail.com Website:www.rotaresortgolf.com


Location
Set in the heart of Guam's tourist hub, Tumon, the Holiday Resort & Spa Guam puts you in reach of entertainment, recreational activities, luxury and budget shopping, and a variety of must-try restaurants.

Tumon Bay Marine Preserve
Snorkel with vibrant aquatic wildlife in the reef lined pristine waters of Tumon Bay. Tumon Bay Preserve has been protected and nurtured for years and is now abundantly filled with over 200 coral and 500 marine species for your snorkeling adventure. Snorkel gear available for sale in Mini Mini or can be rented with Apra Dive
Entertainment and Activities

Shopping

Chamorro Village Wednesday Night Market
Sand Castle Dinner Show
Two Lovers Point
Latte Stone Park
Talofofo Falls Park
The Beach Bar & Grill
Ride the Ducks Guam
Underwater World
Tango Theaters (Micronesia Mall)
Regal Theater (Guam Premier Outlets)
Tagada Amusement Park
Let's Ride Guam (Off Road Adventure)

Tommy Hilfiger - Use your Holiday Resort guestroom keycard at Tommy Hilfiger in Guam Premier Outlets for a 10% discount. See back of keycard for details.
Kmart
Tumon Sands Plaza
DFS T-Galleria
The Plaza Shopping Center
Guam Premier Outlets
Micronesia Mall
Agana Shopping Center
Fountain Plaza
Restaurants Within Walking Distance

Convenience Stores

Terry's Local Comfort Food
En Japanese Restaurant
Fuji Ichiban
Tairyo Sushi
Kai Japanese Restaurant
Mac & Marti's
Churrasco
VIP House
Tau Bay Pho
Ban Thai
Dr. Kabob's
Tumon Bay Lobster & Grill
Core BBQ Garden & Bar
Jamaican Grill
Moms Bop Burger
Proa
Burger King
Tacos Sinaloa

Mini Mini (Lobby or Garden Villa Hotel - open 24 Hrs)
Kmart
Osaka Convenience Store
ABC Store

Direction from A.B. Won Pat International Airport
Exit left from A.B. Won Pat International Airport to Route 1 and turn right on Marine Drive. Then turn left at the intersection in front of Kmart onto Tumon Bay Road. Turn right on Pale San Vitores Road and drive about 800 meters onward to Holiday Resort Guam on the left. Only 10 minutes away from Guam's main airport.

Address: 881 Pale San Vitores Road, Tumon, Guam
Phone: +1 671-647-7272 Fax: +1 671-646-0867

---

WE PAY 10% OF VISIBLE PRICE FOR EVERY CONFIRMED BOOKING AS YOUR COMMISSION FOR CHOOSING US.
Airport
Antonio B. Won Pat International Airport 3 KM