With HEBERI.COM
Contact multiple Hotels at a destination and ask for their offers instantly

to choose the best for your clients budget and satisfaction,

Book your clients NOT only Hotels to stay, but book them Excursions or Shopping offers at destination online if they are interested

to make their holiday UNFORGETTABLE so will come back for their next Holiday booking too,

As Property Owner, Advertise your Hotel, Tour, Cruise Journey or Shop directly to Tourist Sale Agents,

simply register and prepare your Hotel, Tour, Touristic Shops Professional Advertising ONLINE and send to 1000+ Tourist Sale Agents WORLDWIDE.

We ​protect client's personal data.

We work with PayPal in terms of payments. We DON`T COLLECT or TRANSMIT users Credit Card data to any third party. Payments are sent to the user's PayPal account only.

Booking Payments are SECURED by platform but,

are released to Users PayPal account 48 hours after the client securely checked-in with an additional command for security.
TAUMEASINA ISLAND RESORT, SAMOA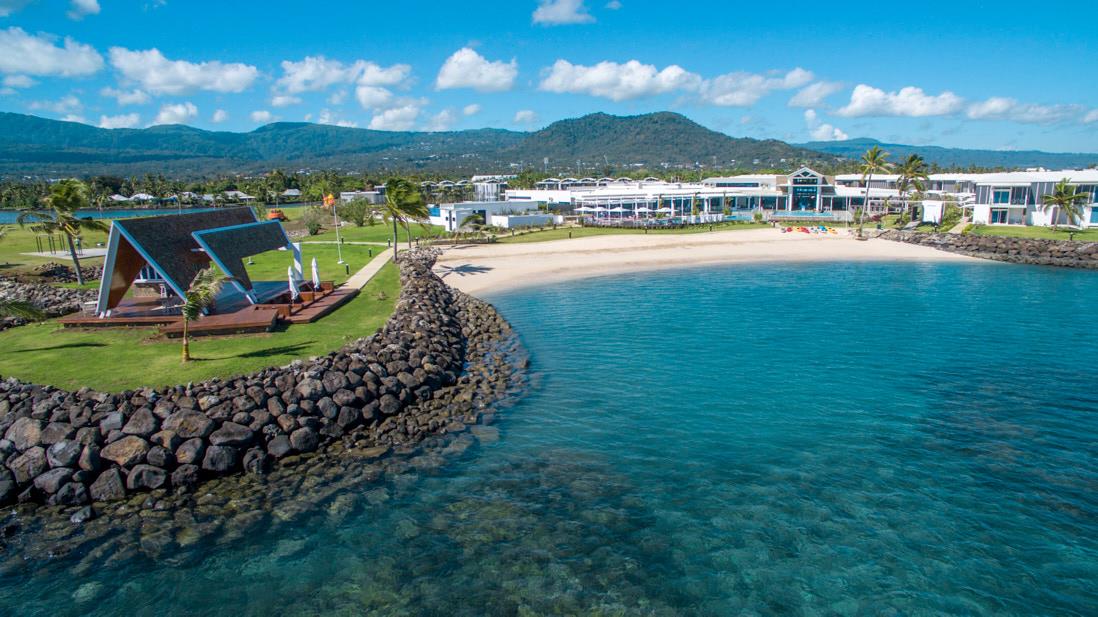 RECCOMENDED
DEAL



Price - 341.7 $ / Day/Room
Bookable Online
...
Taumeasina Island Resort, Samoa

SECLUDED AND EXCLUSIVE ACCOMMODATION IN THE HEART OF THE SOUTH PACIFIC

Taumeasina Island Resort is located just 45 minutes from the Faleolo International Airport, and 5 minutes from the capital city of Samoa, Apia. Enjoy breathtaking views of the Pacific Ocean, and the scenic mountains of Upolu, from every vantage point on the island; truly a 360-degree tropical paradise island. With accommodation options to suit all types of discerning traveler; choose from our beautifully appointed Oceanview Rooms or our fully self contained two and three-bedroom Waterfront Villas.

Whilst staying in Samoa at Taumeasina Island Resort your choices are endless; dine at one of our three restaurants or enjoy a locally inspired cocktail at one of our stylish bars. The resort features an array of activities from our cascading swimming pool, tennis courts, water-sports pavilion to cooking classes, and weekly cultural shows. Alternatively, retreat to our Fofo Spa & Sauna and indulge yourself with a selection of treatments using local and international beauty products, or sit back and soak up the Samoan sun on Taumeasina Island's private white sandy beaches. Your Samoa Holiday awaits!


About Us
A NEW AND UNTOUCHED PACIFIC ISLAND HOLIDAY PARADISE
Taumeasina Island Resort is the newest four and a half star luxury resort in Samoa situated on an exclusive island just outside of Apia. The resort accommodation boasts 80 hotel rooms and a mix of two and three-bedroom self-contained villas. Taumeasina Island Resort is the only island resort in Samoa. The island itself was partially reclaimed some fifty years ago, is approximately 60,000sqm or 14.8 acres, and is connected by a causeway to the mainland of Upolu, Samoa's main island.

The island's attraction lies in its first-class service with a number of restaurants and bars and a wide range of activities for all ages, both on and off Taumeasina Island. Only a 45-minute drive from the Faleolo International Airport and a 5-minute drive from Apia you will find yourself in our Pacific Island sanctuary. The perfect place to holiday, and truly relax and unwind with exceptional service and facilities incomparable to any other South Pacific holiday.

Dining
INDULGE YOUR TASTE BUDS AT ONE OF OUR TOP-RATED RESTAURANTS IN SAMOA

With three restaurants and two bars in a range of breathtaking locations, Taumeasina Island Resort caters to all culinary persuasions. The cultured and comfortable, Sina's Restaurant offers enchanting views of the ocean and the Samoan sunset. Dining at our main restaurant Lapita's Restaurant brings you to live entertainment every night and seasonally inspired menus.

Feeling like a more intimate evening with your loved one, enquire about our 3-course private balcony dinners in your Oceanview Hotel room or Waterfront Villa. Watch the sun go down while sipping one of Samoa's specialty cocktails at the Sunset Bar or relax and lounge at the stylish Manu Wine Bar. From the array of dining options, everyone is sure to find a dining experience that will truly satisfy.

All menu prices are displayed in Samoan Tala?


SINA'S RESTAURANT
Experience culture and comfort in the heart of the Pacific. Sina's Restaurant welcomes you for dinner amidst one of the most superb locations in Samoa. The venue has an atmosphere of peaceful elegance inspired by the exquisite cuisine and the remarkable views of Samoa's turquoise waters. Dine along the poolside terrace under the stars or in the refreshing air-conditioned indoor space. The mood is set with subdued lighting and soft music. Our seasonal menus feature traditional Samoan and internationally inspired cuisines. All dishes are coupled with our excellent selection of wines and cocktails.
Open 6:00pm - Late


LAPITA RESTAURANT
Our main restaurant, Lapita's Restaurant, offers a more casual dining experience. Serving both continental and cooked breakfast, café style lunches and dinner with live entertainment each night with the occasional themed buffet. Taumeasina's famous Fia Fia night is held weekly at Lapita's and is one not to be missed. Reservations are essential.
Open 6:30am - Late


CASCADE POOLSIDE DINING
Open for lunch, choose from our poolside snacks and locally inspired tapas menu while enjoying the easy-going atmosphere that is the Cascades. Located next to the resort pool with a lovely ocean breeze flowing through day after day.
Open 06:30 am – Late


MANU BAR

Wind down at our stylish Manu Bar located in the resort lobby area, with elegant and comfortable cocktail lounge seating, you won't want to leave. Serving coffee, tea, beer, wine, and cocktails. Our Manu Bar also serves the pool and terrace area of the resort with light snacks available all day.
Open 10:00 am to Late


SUNSET BAR
Witness the sunset glimmer over the beautiful Pacific waters. Taumeasina's Sunset Bar is the ultimate afternoon setting. Located on the waters edge with an endless view of the Pacific Ocean, watch the sun disappear while sipping on one of our exotic cocktails made by our highly trained bar staff. A light snack menu is available. You will be the first to see each day through with our Sunset Bar being the closest point of the world to the international dateline. This truly is a special and unique part of Samoa and the South Pacific.
Open 10:00am – 9pm


PRIVATE BALCONY & BEACHSIDE DINING
Choose from our 3-course menu specially designed for your private dining experience. Dine in the comfort of your own room or by the shoreline as the waves kiss the sand. Your personal waiter will see to your every desire while you relax and indulge.

Spa & Fitness
REJUVENATE YOUR MIND AND BODY AT OUR FIRST-CLASS SPA AND FITNESS CENTRE
A place of personal peace and well-being, our Spa & Fitness Centre will keep you rejuvenated and maintaining your fitness while traveling for business or pleasure.

FOFO SPA & SAUNA
Relax and Rejuvenate yourself at Fofo Spa & Sauna, where you will find nothing but pure indulgence in a comfortable and tranquil setting. The ultimate spa experience featuring signature treatments for all-embracing mental and physical rejuvenation. Using both locally made Mailelani Samoa and the world's leader in professional marine cosmetics; Thalgo.
Open 8:00am - 6:00pm

RESORT GYM
Continue your fitness regime while on holiday at our Resort Gymnasium. Accessible during the day offering a small but comprehensive choice of equipment to keep you on track. It is located near the resort pool and Fofo Spa and Sauna. Our equipment includes all that you will need to maintain your healthy exercise regime whilst you are away on business or holidays. Or try out our outdoor circuit with gym equipment stationed around Taumeasina Island.
Open 6:00am - 9:00pm


Activities
DIVING, SNORKELLING, AND EXPLORING! THERE IS SOMETHING FOR EVERYONE WHILE STAYING AT TAUMEASINA ISLAND RESORT
Explore the natural beauty of Polynesia and Samoa. A wide array of activities are available for every age, on and off the Island, from snorkeling the beauty of Upolu's coastline to experiencing the traditional customs of Samoa.

To Sua Ocean Trench & Aleipata Districts Waterfalls
Take a trip around Upolu Island stopping off at Falefa Falls and through the Le Mafa Pass (1700ft above sea level), with breathtaking views of the east and south coastlines. Carry on through lush green forests, waterfalls (where you can swim), plantations and traditional Samoan villages. And one no one should miss while in Samoa, you will stop at the famous To Sua Ocean Trench (pictured above) -

The tour then continues onto Faofao Beach, one of the best swimming and snorkeling locations in Samoa. Lunch will be served on the picturesque white sand beach. On the way home you will follow the South West Coast and over the Cross Island path where you will see the beautiful lush rain forests and hills, stopping off at Papapapaiatai Falls (dormant volcanic crater) and back to Apia Town.

Around Town Apia & Robert Louis Stevenson
Go for a guided tour around Apia and its surrounding areas, where you will learn all about the history and culture of Samoa. On the tour, you will visit Mulinu'u Peninsula, the sacred burial ground of the chiefly families of Samoa; Parliament House; the Independence Monument; Lands & Titles Court; the German Monument where the German flag was raised during Samoa's time as a colony; and the landing site of the first Catholic Missionary to Samoa. A visit to the fresh produce market (if you are staying in our Waterfront Villa, purchase some fresh produce for dinner), University of the South Pacific Agricultural Campus, pass by the Moamoa Catherdral, one of the oldest churches in Samoa. Last but not least, you will tour the former home of late Robert Louis Stevenson, now a fascinating museum displaying some of his personal belongings
Monday to Sunday
Tours from 9:30am to 1:00pm and 1:30pm to 5:00pm

Fugalei Produce market & Papaseea Sliding Rocks
Enjoy a tour of the Fugalei Produce Market in Apia, a great place to pick up a souvenir or two of your time in Samoa. The tour then continues onto the natural Papaseea Sliding Rocks where you can go for a slide and swim. these rocks have naturally formed a perfectly smooth slide due to years of erosion from the spring that flows through. This is a perfect day for the young and youth at heart. There are quite a number of stairs you need to walk to get to the rocks but there are several places you can rest along the way.
Monday - Saturday
Tours from 9:30 am to 5:00 pm

Day Trip to Manono Island
The tour leaves from Cape Lefatu for Manono Island (this island featured in the 1958 movie South Pacific). On your way over you will pass by the crater Island Apolima.

On the island, you will be welcomed into local families home and learn about Samoan culture, etiquette, customs, and traditions. The locals will take you through the family compound, showing you a traditional Samoan kitchen where everyday Samoan cooking is performed on open fires and ground ovens (also known as an Omo). In the most backyard, you will find family gardens where most staples are grown, and you will get to sample fresh coconut and seasonal fruits.

Afterward, the walking tours continue through traditional villages, you will pass the beautiful beaches stopping off for lunch, a swim if you please or just relaxing before you head back to Upolu Morning Tea and Lunch are provided

Tour the South East of Upolu & Tafatafa Beach
The tour's first stop is at the famous author Robert Louis Stevenson Museum. You will have the opportunity to walk through Stevenson's former home now Museum. The picturesque drive continues on passed the Baha'i Faith temple and onto Papapapaitai Falls and then lunch. The BBQ Lunch will be served at Tafatafa Beach on the Southern Coast. There will be time for you to relax and enjoy this unique spot. After lunch, the tour continues on to Sopo'aga Falls & Mini Botanical Garden where there is a variety of Samoan medicinal plants used for different ailments. There will also be a coconut demonstration which informs you about the Pacific Islands '"tree of life" and its many uses. Sample fresh coconuts and watch as they create fresh cream of coconut (very yummy).

The tour then heads passes local plantations and drive through traditional Samoan villages along the North East Coast of Upolu through Le Mafa Pass (1700ft above sea level) you will enjoy breath-taking views all the way back to Apia.

Falefa Falls & Piula Cave Pool
See the North East Coast of Upolu Island stopping at the picturesque Falefa Falls showcasing the spectacular 10-meter drop into the ocean. Then continue onto the Piula Freshwater Cave Pool for a swim and back to your respective accommodations.

Weddings & Romance
INSPIRE YOUR INNER-ROMANTIC AT ONE OF THE WORLD'S MOST ROMANTIC LOCATIONS
Taumeasina Island Resort has a number of personalized island wedding packages to ensure your Samoa wedding is full of everlasting memories and pure happiness. Choose from bespoke options and packages with help from our exclusive wedding coordinator to help you along every step of the way.

Weddings
Choose from a barefoot beach wedding as the waves kiss the sand, a customary chapel ceremony at the Vasa wedding venue or tie the knot amongst the lush gardens. Our dedicated wedding coordinator will tend to every detail to make your destination wedding in Samoa the most seamless and unforgettable day and surpass your expectations. We invite you to be inspired by our bespoke wedding packages designed with love.

Honeymooning in Samoa
YOUR PERFECT ROMANTIC GETAWAY AWAITS
The perfect honeymoon awaits your arrival on the private island of Taumeasina Island in beautiful Samoa. Indulge yourselves with breakfast in bed daily, couples treatments at Fofo Spa & Sauna, private beaches, three world-class restaurants to dine at and share romantic sunset drinks each day of your holiday.

We make honeymoons in Samoa seamless and inspiring, creating the perfect vacation for our honeymoon guests, promising a memorable experience you will cherish forever.
To find out more about honeymoon accommodation, specials and packages please contact us now.

Honeymoon Package
Stay 5 nights at Taumeasina Island Resort for your honeymoon and receive:
Enjoy 25% off* all accommodation
Welcome cocktail drinks
Complimentary bottle of sparkling wine
Your choice of our three-course romantic private balcony dinner or private beachside dinner for two (valued at WST$300)

Direct Contact Us
Taumeasina Island Resort, Taumeasina Island, Beach Road, Apia, Samoa
Phone: +685 61000 Email: Info@taumeasinaislandresortsamoa.com

---
PLEASE BE INFORMED THAT WE DONT CHARGE ANY PAYMENT FOR BOOKINGS WITH TOUR OPERATORS. PRICE WILL APPLY ONLY IF CLIENT WILL COME INDIVIDUALLY. WE MUST BE INFORMED ABOUT BOOKING IS THROUGH WHICH TOUR OPERATOR, BOOKING NO AND ARRIVAL DATE TO CONFIRM.
​WE PAY 20$PP AS YOUR COMMISSION FOR EVERY CONFIRMED BOOKING
Airport
Faleolo International Airport, Main West Coast Rd, Faleolo, Samoa 51 km