With HEBERI.COM
Contact multiple Hotels at a destination and ask for their offers instantly

to choose the best for your clients budget and satisfaction,

Book your clients NOT only Hotels to stay, but book them Excursions or Shopping offers at destination online if they are interested

to make their holiday UNFORGETTABLE so will come back for their next Holiday booking too,

As Property Owner, Advertise your Hotel, Tour, Cruise Journey or Shop directly to Tourist Sale Agents,

simply register and prepare your Hotel, Tour, Touristic Shops Professional Advertising ONLINE and send to 1000+ Tourist Sale Agents WORLDWIDE.

We ​protect client's personal data.

We work with PayPal in terms of payments. We DON`T COLLECT or TRANSMIT users Credit Card data to any third party. Payments are sent to the user's PayPal account only.

Booking Payments are SECURED by platform but,

are released to Users PayPal account 48 hours after the client securely checked-in with an additional command for security.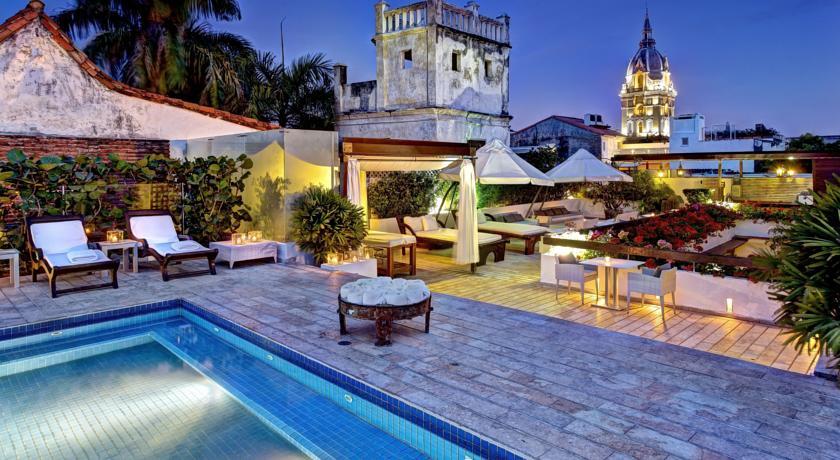 DEAL



Price - 114.45 $ / Day/Room
Bookable Online
...
Hotel Lm A Luxury Boutique Hotel Cartagena
This boutique hotel is located within the exclusive development of Puerto Aventuras in the Riviera Maya, Quintana Roo. Its 6 cozy rooms are adorned with the passion and unique style that Inmense Hotels brings to the design of its properties. Each of them are decorated with special attention to offer you the most comfortable stay, without leaving aside the pleasure to the senses. The terraces available in each room are ideal to enjoy the tranquility provided by the location of our hotel.

This beautiful boutique hotel prints the purest Mexican art in each of its corners. LM by Inmense has a pool that the nature that surrounds this distinguished residential helped creating, with a view to the incredible harbor. We have hammocks available to enjoy the sea breeze, while drinking a delicious cocktail prepared by our talented bartender. Likewise, the hotel's restaurant, famous for its high quality, exquisite flavors, and excellent assistance, is at your disposal with room service, or while admiring the natural view.

LOCATION
The hotel is very closely located to the Grand Palladium Resort & Spa with which it shares an excellent location opposite to the Cortecito beach, just 24 km from Punta Cana International Airport. The Aromas Museum, golf clubs, Dolphin Island Park, and all kind of services, from shopping malls and five-star restaurants are within a few minutes from our facilities. You will find equally accessible fishing tours, catamaran rides, and popular bars, pubs and casinos like the Poseidon and the Hard Rock, with the best nightlife where you can witness live music shows performed by local and foreign artists.

SPA
Our hotel stands out for offering exceptional relaxation and aesthetic treatments, check out our wide variety of massages and Spa services that we bring to the comfort of your own suite. Each of them is applied by professionals whose priority is to seek your health. Put yourself in their hands and let them pamper you in the best way!

TOURS AND TRANSPORTATION
Our receptionists can assist you if you wish to book a special excursion, as well as the transfer service between the hotel and Cancun International Airport. We have tours around the area that include visits to cenotes, beaches, and the main archaeological sites. Do not hesitate to consult with them any other special request.

ROOM SERVICE
We specialize in personalized service, from 7 am to 11 pm we are willing to attend your needs and particular requests, and we offer an exquisite variety of luxury amenities, such as romantic dinners and massages that we take to the comfort of your own room.


EVERYTHING AND EVERYONE
Our intention is to create the best possible experience for our guests, we are happy to help you in planning your vacations and taking care of every detail of the process so that everything turns out always the best way. Our motivation is the satisfaction of our clients and we are willing to do everything possible to fulfill your expectations, from arranging a dinner in your suite to organizing your birthday or a wedding anniversary.

ACCOMMODATION
LM by Inmense is a hotel with personality, amidst large transactional chains and resorts with more than one hundred rooms. Designed for travelers looking to distinguish themselves from most, LM by Inmense offers an exclusive and totally personalized treatment in one of the best areas to vacation in Puerto Aventuras.

Surrounded by palm trees, at a sea entrance that is always quiet and in summer it is dyed by beautiful turquoise color, our hotel is perfect to rest and to live incredible adventures on the beach.
Our rooms are spacious and bright, decorated in a contemporary Caribbean style that highlights the best of a beach hotel, with a modern and welcoming view that will make you feel part of the life at the port.

Our luxury room services, in conjunction with the fresh and relaxed atmosphere of our hotel, will make your stay in any of our 6 suites an unforgettable experience.
*Rates in doble occupacy.


JUNIOR SUITE
Occupacy4
Room Description1 Room
BedDouble
Bathrooms1
TerraceYes
MinibarYes
HammockYes
Air ConditionerYes
Wi-Fi Free
TVYes
Room ServiceYes
Hair DryerYes
IronUpon request

Beautiful pieces of Mexican art adorn our suites, providing them with a particular identity, they have a balcony with sea view, and a hammock for a siesta, listening to the rumor of the ocean and the seagulls.

All of our rooms are equipped with air conditioning, 40 inch flat screens with cable TV channels, iPod dock, as well as aromatherapy essences that will help you have an optimal rest and energy, indispensable to make the most of everything that this incredible destination has to offer.

Our Suites also have luxury room services that include massages and romantic dinners to make experience the exclusivity and personalized treatment of our boutique concept.
A la carte American Breakfast Included.


STANDARD SUITE
Occupacy4
Room Description1 Room
BedDouble
Bathrooms1
BalconyPrivate
MinibarYes
HammockYes
Air ConditionerYes
Wi-FiFree
TVYes
Room ServiceYes
Hair DryerYes
IronUpon request

Our Standard Suites are decorated with beautiful pieces of Mexican art that give them a particular identity, located on the first floor of the hotel and count with a terrace directly connected to the pool area.

The beds are covered with a canopy that gives a unique touch, plus are equipped with air conditioning, 40-inch flat screens with cable, iPod dock, as well as aromatherapy essences to help you rest like you´re at home To seize the most of everything this incredible paradisiacal destination has to offer.

Our Suites also have room service that include massages and romantic dinners to experience the exclusivity and personalized treatment of our boutique concept.
A la carte American Breakfast Included.


RESTAURANT
The culinary tradition of the state of Quintana Roo is a product of the blend between the Spanish and Mayan heritage, rich in species and ingredients such as chirmole, pipián, known as oni sikil, and papatzul, which are synthesized in typical dishes such as Cocido, white stuffing, black stuffing, chocolomo and cochinita pibil.

In our Restaurant 433 you will find this cultural richness in a contemporary gourmet version besides high international cuisine, and of course the best of seafood such as sea bass, mackerel or shrimp, and even lobster or snail, species from the Caribbean fishery.

Enjoy the original creations of our chef, who is willing to please your special requests so that you and your family experience the diversity of food of the region at its best.


BAR
Enjoy our wide selection of wines and liquors, as well as the original creations of our Barman in cocktails. There is no better way to cool off by the pool and enjoy the sun than with a delicious cocktail in hand.

Our Bar 433 is famous for its incredible piña coladas and daisies, let yourself be surprised and spend an incredible afternoon with your family and friends. We also offer delicious snacks to accompany your favorite drink as well as the restaurant's full menu.


OUTDOOR SPACES
LM by Inmense has specially equipped open spaces so that guests can relax and enjoy the beautiful view and the blue sky. The garden welcomes you upon your arrival, so you can also rest in the fresh and read a book listening to the water fall in the central patio with fountain or sunbathing and take a placid nap on a beach bed or hammock facing the sea.

CALETA
Our Hotel also has a natural swimming pool that feeds on sea water, it is a circular cove that captures the entrance of water directly from the ocean to one side of the pool, ideal to enjoy a pleasant afternoon with children or as a couple . Enjoy the cool sea temperature on a sunny day and spend unforgettable moments in the company of your loved ones.



CATAMARAN
LM by Inmense offers its guests the opportunity to experience an incredible adventure aboard their catamaran, a light boat propelled by sail or motor, that will take you to the surroundings and the incredible underwater beauty that exists in the Mexican Caribbean, discover corals , fish of all colors, marine stars, manta rays and much more under the crystal clear water of Puerto Aventuras.


ENDEMIC SPECIES
Puerto Aventuras is a paradise for lovers of flora and fauna, and has an extensive variety of endemic species of birds such as pelicans, frigate, hairy heron, black hawk, striped owl, Yucateca calandria, Red guacamaya, green parrot, mountain turkey and pheasant. Visit some of the many nature reserves to see spider monkeys, whitetail deer and temazates, as well as collared wild boar and marsh crocodiles, it is also very common to see large iguanas basking in the sun at midday on the rocks.

Immerse yourself in the transparent waters of the coast where you can see Stingrays and giant turtles in the shallows or get to know the friendly tepescuintles, squirrels and wild sereques who like to follow the tourists to get some fruit or seeds.


---
PLEASE BE INFORMED THAT WE DONT CHARGE ANY PAYMENT FOR BOOKINGS WITH TOUR OPERATORS. PRICE WILL APPLY ONLY IF CLIENT WILL COME INDIVIDUALLY. WE MUST BE INFORMED IF BOOKING IS THROUGH TOUR OPERATOR WITH BOOKING NO AND ARRIVAL DATE. WE PAY 2% PP FOR EVERY BOOKING
Airport
Punta Cana International Airport 24 KM